Sunday, September 2 - Day One
Another year, another tour and BOOM! September the second came much faster than anticipated. Was all ready? Of course not. I had just gotten back from Eurobike [largest bike expo in the world] and had worked on Saturday and BOOM: A collegue of mine was sick so I had a pretty stressful time. After that, BOOM: Pick up the dog, the groceries, get everything ready, get the MSR [our gasoline cooker] started up, get Quivo [the dog] packed, get my ass to Florian's with two heavy food bags in each hand, my backpack on the back and four walking sticks propped under my arms ... at least Quivo could walk w/out a leash.

Then, at Flo's, we went through the entire list again and again, making sure we hadn't forgotten anything vital. At two in the morning, everything was ready. Our train from Mainz to Freiburg was at 5:40 AM but naturally no direct connection. We would have to exchange trains three times for the relatively short distance. Anyway, Flo and I received a whopping 2.5 hours of sleep before heading off to the station before the sun popped out. [Jeremy]

After having ridden for five hours with four train exchanges from Mainz to Freiburg, we arrived at the Freiburg train station. We hiked 22.5 miles on the first day; more than expected but that's how it works sometimes. During the train ride, we were in luck to hear the "schönen Andy" [beautiful Andy] playing birthday songs and tunes alike on his guitar; for the joy of some and torture of others. Having packed our last stuff at the Freiburg train station, off we went; Jeremy, Quivo [Jeremy's dog] and I were on our way to Monaco by foot! I immediately thought to myself, "Oh man! What are we getting ourselves into again?" [Florian]

We stepped off the platform in Freiburg and oriented ourselves first, bought a loaf of bread, some water, turned on our GPS-logger, waiting for it to tune into some satellites 24,000 miles away and started off in a direction we had simply set ourselves. Orienting oneself is always somewhat difficult in the beginning. Freiburg was not on our purchased map so we decided the easiest way to know where we were headed was to follow the Rhine down to Switzerland; a place which was on our map. We asked various people; some helped and some gazed awkwardly at us as if to say, "Do you even know where the heck you are or where you're going?" [Jeremy]

We saw a blue cycling team, which was riding through the wonderful Breisgau. In Riegel, we had a "cookie break" alongside the Dreisam. We wanted to find a great place to stay the night and thought we'd continue walking for a bit. Suddenly though, we turned into a forest and it truly was a mosquito paradise, a still swamp. Being there, we thought we'd wander even further and after a while came out [of the forest] to a river. We hoped it was the Rhine. Right now, we are staying near a small house after one of the river arms cut us off from our path. [Florian]

Even taking the small inconveniences of the day, things were going well. Quivo seems to be doing well though he detests walking in his shoes and seems to be asking why the fuck he's not allowed to sleep with us in the tent. We made him a comfy space in the pre-tent area, locking his leash in a carabineer on one of our backpacks. I experienced some shoulder pain during the last nine miles, which was probably because my pack isn't 100% optimally adjusted to the new weight I'm hauling around so I'm giving myself a mental note to take care of that. [Jeremy]

I'm so tired. My feet, neck and hips are hurting bad. I hope it won't get much worse. Now, I'm about to sleep for the first time in my Ajunkilak sleeping bag from Mammut; I'm thrilled about that! [Florian]

Dinner: Broccoli, zucchini, green beans and pasta in a cream sauce with cheese [a bit too salty]
Monday, September 3 - Day Two
You go to sleep, wake up and magically your "dead-end" becomes a through-path ... that's what happened. The flooded path, which had blocked us the previous day, was now dry and the water level had dropped low enough so we could cross it and did. We stopped on the way at Sasbach for a coffee and a Fanta. Quivo enjoyed a complementary sausage the lady at the café gave us for him. [Jeremy]

Though, of course, we had to convince ourselves of the sausage quality first. Near the dam, we had lunch at a wonderful quarry pond; first, a spring in the water and sticks for Quivo. Now, that was fun. After a good break, we traveled further in the direction of Sassenheim. After that, we hiked towards Breisach, reaching this city with 19 miles on our backs.

In a very friendly car dealership, the people there described to us the way to Aldi and Lidl [supermarkets]. With their map of the city, we went on the search. As we, I being very exhausted, got there, a pretty messed-up man asked us if we had twenty cents for him, since otherwise he'd get in real trouble at 9:40 AM the following day. Of course, we gave him the twenty cents but the story was pretty outrageous ... I thought, "Great. We're in trouble too because we don't know where we'll sleep and how we'll get on the next 18 days." I was real weary to know that it was 6 PM, and, the fact we still had six miles to walk made me sick to my stomach.


After shopping, the backpack was so heavy with the extra pounds that my mood rapidly sunk. Back on the Rhine, after having gone through Breisach, we followed alongside the dam again. We passed the youth hostel I had stayed at about twelve years ago with the KSG [catholic student organization]. [Florian]

I decided to have Quivo go six miles with shoes, six without, six with again and so on, but after our cookie-break in Breisach, I noticed some fur on the side of his paw was missing due to the rubbing of the shoes so I had to rethink the strategy and decided to just let him go barefoot and see what happens.

After having reached Flo's very first 25 miles, we scoped for a place to spend the night. I can't say it's the best place in the world but our standards are too high and we've had paradise-spots a ton of times on other tours to the point of being spoiled rotten. The Rhine is mucky and the way down to it is slippery and inclined but being clean is important and after a great meal and good distance, we're ready for bed. [Jeremy]

Dinner: Mashed potatoes, zucchini, green bell peppers, sausage with cheese and sour cream
Tuesday, September 4 - Day Three
Our start was great with cereals in milk and fake coffee for breakfast. We let Quivo enjoy the entire day without shoes and this seemed to go much better than with them. The only thing that bugs me is if he were to cut his cushions on some glass or jagged stone, then things would get rather difficult. He [Quivo] is a bit wilder, a tad more distant to his master. Though, when we leave him outside while we shop, he always makes an enormous feast on our return and whines as if to say, "let's get out of here!" [Jeremy]

This morning, we set out from the dam. After about 14 miles, we had lunch. Shortly before that, we had had a Pickup [chocolate candy bar] and drunk the rest of the milk. We washed our hair and clothes in water and ate a delicious lunch. Then, we went on 4.5 more miles to Bad Bellingen, where we had a break and rocked the Rewe [supermarket]. There are days you feel you're getting on well and days you think nothing's working out. Today, we're good on time but I have no idea how I should motivate myself. It's pretty depressing to know that normally, in one hour, we would cover four times the distance with the bikes. Now, you must painstakingly witness how you're not really getting ahead. [Florian]

We had by that time covered some 19 miles and patched up a blister of mine. I could tell from the lack of conversation from Flo that he was somewhat in pain and tired. Quivo hopped on behind us, tongue hanging from the side but straightened up and ran forwards as soon as he'd see a dog, a squirrel or anything slightly dogged-interesting.

Finally, at exactly 24.9 miles, we found a great grassy spot with a bench next to it and an entrance to the Rhine via stairs, where we bathed and washed our clothes. The humor is better after dinner and I hope tomorrow that Flo will be lighter on he feet so his mental strength can stay up. [Jeremy]

Now, I'm lying, well fed, in the tent but the last six miles of the day really robbed my energy. I ask myself, how long I can continue doing a marathon every day with 33 pounds on my back and we're still underway on flat surface. Whatever, only 17 days to go ... we'll see. Right now, we're resting nine miles away from Basel on the Rhine and have got a nice spot. We just had couscous. Yeah, Jeremy's tour cuisine is really the best!!! [Florian]

Today, Flo had a hard time. Blisters were showing up on his feet and a lack of sense made its way into his mind, leaving him somewhat unmotivated and pondering if or how we would succeed, and maybe even why we should succeed. I, myself, think it rather funny; the sensation of going nowhere or somewhere but at a very slow pace. We're used to bike riding, this walking business is hard and the reward is somewhat non-equivalent to the work. I understand Flo but I'm very focused and motivated on our goal: Monaco and am not worried about issues of sense at the moment. [Jeremy]

Dinner: Couscous, eggplant, green bell pepper, tomatoes, carrot and spicy sausage in a tomato sauce
Wednesday, September 5 - Day Four
Not bad the fourth day, I must say. The blisters on my feet are multiplying but we're still going onwards. With the notion of having a big city nine miles in front of you, it's not easy to master the day but we had to go through with it. At least we didn't continue going straight along the Rhine, which was very tiring for the mind. We passed an industrial area, passing Rhenus Logistic [one of Europe's largest logistic companies], until we came close to the Basel border. We had a break at a café in a Carhartt outlet. Then, we got our passports ready and put Quivo on the leash. It was easier than we thought. We simply walked through the border without being asked any questions or getting checked. [Florian]


I have to mention, I'm amazed we did so many miles today because usually going through a big city is always tough on time. We had to exchange money from Euros into Swiss Francs, gas up our cooker, do some shopping and find a way out on foot. The first was easy ... we went to the closest bank. The second and third, we found on our way out; a gigantic super-, no, hypermarket and the prices were as amazingly high as the store was big. Usually, we'd pay for the same amount of food in Germany some $40 but here, we paid 46 CHF [$53]. The gasoline we got for free thanks to some guy at the station. [Jeremy]


We finally went on, alongside a pretty creek, to Arlesheim and further to Hochwald. From then on, we were going up a challenging steep trail. Quivo mastered this greatly. In Hochwald, a nice village, we filled up our water supplies and had a break. Afterwards, we headed towards Seewen. There, it's nice to live; classy houses, great cars and stylish. [Florian]

The view over the meadows was spectacular. We saw cows, horses, sheep and pigs. Every now and then you could make out cat ears over the high grass, playing hide and seek and ducking even lower as you passed by.

It was getting tardy but we managed to discover a grand spot right next to a creek. Though, the going had been physically tougher than the flat-surfaced Rhine, this break from monotony gave us new strength and leisure so that, by the end of the day, the work had felt more meaningful. [Jeremy]

Today, it all worked out a lot better; great, because yesterday, I was a little in despair. In about two hours and several minutes, we will be in Nunningen. [Florian]

Dinner: Tortelinni and Spätzle with yellow bell pepper, mushrooms in a cream sauce with cheese
Thursday, September 6 - Day Five
The country of Switzerland opened its doors and let us penetrate today ... we were very much liking what we were seeing of it. This morning, Quivo got his very first encounter with an electrical fence as he curiously tried to near a herd of cows. He yelped away with bewilderment in his eyes saying, "Where did that come from?" Throughout the day, we followed the yellow diamond trails from village to hamlet. Thanks to the riches of Switzerland, these signs are accurately posted and very well taken care of. Even if we were to go off course, one intrigued glance in the correct direction and sure enough, the yellow signs and markings would sway you automatically to the next place. Often, distances would be marked in time instead of miles. This is funny because it implies that time and distance are interchangeable and that saying, "I walked three miles," or, "I walked an hour," is the same. Therefore, we can talk about the distance of an hour and not worry about the time it takes. [Jeremy]

Today, we began shortly behind Seewen, going in the direction of Nunningen. It went extremely up and down and we got to sweat a good deal. It's fun in the mountains but you have to take it with caution since you
shouldn't underestimate the climbs and observe accurately the elevation profile. We are on foot, which means three miles per hour. That's not much and I hope the nice mountain weather will remain loyal to me.

During the entire morning, there was fog in the valleys and the visibility was reduced to 50 yards. At least we could hear the cowbells. Cows are easily shooed away with our Leki sticks but it's more difficult with horses and bulls. Still, we had to get by since our route went through several cow pastures. In Mümliswil, we had a delicious lunch and then made our way in the direction of Basthal. There, we did some shopping and drank iced tea and cola. [Florian]

A man there, stating he was the authority figure on hiking in these parts helped us out in finding our next itinerary: The high route of Jura. He also took the time to glance over our overview map, which is more a sketched up plan than any real itinerary. He stated it would be tough and maybe not do-able and somewhat dangerous ... well,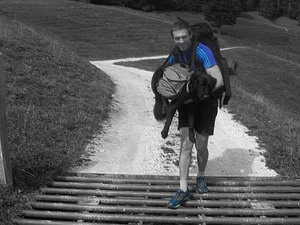 there we have it, right? Sounds good to me! [Jeremy]

After a short discussion on where we were heading, he informed us to -please- stay on the official path because anything else was dangerous. He told us about how he had walked to Paris and Vienna. He drew, where good restaurants were, on our map and warned us about the Alps. Last week, he said, it snowed and the mountains are unpredictable; going five hours in to turn back and go five hours out isn't fun. Then, he asked us if he could take us a bit further [with his car] but we thankfully declined. We then marched out of the place with filled water supplies up to Schwänglimatt, some 2,000 feet elevation on foot, which was physical.

Arriving on top, we first had a cookie and iced tea break. We were at a farm with an inn. I asked the keeper if it were at all possible to put up our tent on the field there. The farmer showed us around and said it was no problem. Great.
We washed ourselves in the [outside] stone sink and put up our site directly behind the house near bales of hay, wrapped in plastic. [Florian]

My little toe on the right foot is sore and sensible, which gave some pain after half the day's distance. Florian had a strain in the left ankle, from going down too fast and too hard. Quivo seems to be doing great without his shoes. He's an extremely well behaved mutt, I can say, and we never have to worry much since he either stays behind, between or waits if one of us is too far behind. [Jeremy]

I hope we'll make good way. The chances of reaching Monaco in desired time is 50:50. The suspense remains, on the road again ... [Florian]

Dinner: Polenta with tomatoes, green beans, cauliflower and broccoli in a tomato sauce with a little cheese
Friday, September 7 - Day Six
The sun woke us up after having thankfully slept the night by the inn at 3,300 feet. I have to say, I'd really love to work at an inn or hostel for a certain time like 3-5 months. We then continued up on a kind of high plateau. We went to Schmiedenmatt. We marched around at about 4,600 feet before we got to Balmberg, where we could gaze at a forest climbing-park. Our highest today was 4,740 feet in Hasenmatt. We had lunch at a cottage, where we ordered two colas, for which we paid a hefty price of 8.40 CHF [$9.70]. Afterwards, we headed to Obergrenchenberg and further on to Grenchen. The blisters are more numerous but they don't hurt as much. Maybe, it's the notion one has to keep on going and that nothing can be changed about it. At times, the trails were very narrow and we had to be careful of Quivo because right and left were steep downs! Careful! [Florian]


As it was getting late, and based on our food supply, we chose to alter our plans and go south towards the city of Grenchen and off the Jura trail. In Grenchen, all of the supermarkets had closed at 6PM but we found an expensive minimart at the north train station.

We veered further south to the river Aare, since it would lead us to the lake of Biel/Bienne. The double name is once in German, Biel and once in French, Bienne. We took a road to the small hamlet of Staat and found a comfortable spot on a field near the river, where we all -Quivo included- washed up, ate dinner and rested. [Jeremy]


Dinner: Mashed potatoes with peas & carrots [sadly, from a can, an expensive can], mushrooms [only fresh], sausage and cheese
Saturday, September 8 - Day Seven
Back to flat; since our descent from the Jura route and sleepover in Staat, we descended the Aare river through Büren, Brugg and Nidau, entrance to the big lake with small mountains in the background called Biel/Bienne. German is still the main language here, well a type of German dialect, which is very warm to the ear. All signs are in German but here and there on billboards, a French word will be Germanized. In Nidau, we had coffee and bought two days worth of food since the second day would be a Sunday and we weren't sure if stores would be closed, as they would be in Germany or opened, as they would be in France. [Jeremy]

Grandpa, when you read this, maybe it's 25 miles a day but they're hefty and harder to obtain than on any bike tour so far. I must admit, I often think about the meaning behind this tour but I haven't come to any satisfactory conclusions yet. Why does it always have to be higher, further, more extreme; why can't we do this shit by bike. Would it be boring? I think not. Man, when I think of how slow we are ... I won't even come back trained for bike riding ... I don't know ... Well, maybe it'll be enough for a brag at the university. There is one thing I know, however, I'm NEVER going to do a tour like this again. Maybe, that's what it was good for, to try it out.

Now I know what I like about biking; every shitty step feels like hell, the hell you have to get used to or otherwise it'll win you over and all will be over. All the blisters and soft spots are maddening. Well, one thing this tour's good for is, it'll be the last. [Florian]

I have to say, it was a bit tough to fit all the goodies in our bags but we managed somehow and carried on using our favorite Swiss paths ... the yellow diamond trails.
The Swiss are extremely accurate about their signs making finding our route very easy. Right after Ipsach, we sat ourselves down on a grassy field overlooking a clean lake to luncheon and have a swim. Quivo did too.

Our entire travel today was horizontal, somewhat boring but after Heynach the paths took us up and down hilly forest trails into Erlach. Real fancy houses border the lake of Biel/Bienne; kinds of habitats one could only dream of with gardens that accessed directly to the lake and -why not- to a little boat too. The sun was up and about, hot, and Quivo was getting pretty tired so we let him bathe a few times and stopped frequently so he could have a drink. [Jeremy]

Though, I have to say that not everything's as shitty as it sounds. We've done 1/3 the time, seven days, and have already 173 miles behind us on foot. Now, we're behind Erlach on a big lake.
It's especially hard to camp here but we found a nice spot, directly on the water with a fire pit. Several boats are romping about in the water. On one of them, two girls are playing fashion show. We just had pasta with vegetables and tuna and then washed everything afterwards. Now, we're hoping for a peaceful night. [Florian]


Quivo fell asleep immediately, only woke to eat and fell right back into the world of dream again. Even the fireworks, of the outdoor party disco on the other side of the lake, didn't make him budge. We swam, washed up and cleansed all our clothes before eating and turning in for the night. [Jeremy]

Dinner: Pasta with tuna, yellow bell pepper, leek and mushrooms in a cream sauce
Sunday, September 9 - Day Eight
Wow, today was hard! But, first off, today's my dad's birthday so I'd like to take the chance to wish him all the best and thank him
for all he does for me, he's the best dad anyone could wish for! So now, why was the day hard? Well, because the land was rather flat and boring. We woke well this morning but much too much too late, which killed precious time and forced us to strain more power on our walking.

I noticed the motivation in Flo and Quivo diminish as the roads lingered on, seeming endless in front of us. Though I try to keep a good humor in the group, I find it sometimes difficult to make a judgment between, "cheer 'em up," and, "let 'em be". However, we did achieve our goal once more and, though fatigued, made the forty [kilometers = 25 miles]! [Jeremy]

I'm dead and done for. Even though we're doing 25 miles each day, I don't believe that we will reach Monaco in our set time. It's a subject, though, that Jeremy doesn't like to talk about. That's why, I'm going to write a few words about it here. I'm labeled as a pessimist when I say, it'll be a tight squeeze time wise but if you look at it realistically, it will indeed be tight! If you take the number of miles per day, we're doing good but it's not as though we were taking the exact route we had planned out.

All this shouldn't say that I don't give a damn anymore but sometimes or even more often, I ask myself if this shit here is fun at all. I wouldn't think the mission was a failure if we hiked twenty days,
25 miles every day, and didn't arrive in Monaco. On foot life is -in fact- at its slowest. Every decision has to be thought out thoroughly. It's not like on a bike. I feel like a pack mule and the last miles give me such aches in the back and feet, that I ask myself whether I'm really behind all this and up until now, I'm not, not 100%. However, I would under no circumstance abort the tour. As soon as I get home though, I'm not going on any walks; it makes me sick. [Florian]

From Erlach to Le Landeron, by way of the canal of Zihl, we left the lake of Biel/Bienne and entered the lake of Neuchâtel. Now all the sudden, everybody was saying, "bonjour," and I had just gotten accustomed to saying, "grütßi" ... unfair. So I simply continued using the Swiss-German term like a chauvinistic nationalist, pretending not to understand French. We hit the lake to the east near Gampelen and tangented to Cudrefin, having coffee on the way in La Sauge, where the waitress didn't care much for our presence. On a -unfortunately too often- concrete terrain, we reached Portalban. Again, the sun hit us with all the Swiss force it could. Luckily, many fountains along the way gave Quivo enough drink-breaks to replenish himself. To cool him further, we put water over his head; I think so his brain wouldn't fry. We burned at this low altitude of 1,400 feet.

From Portalban, same game to Estavayer-le-lac through fields. The first sign read, "Estavayer: 3h," then some 45 minutes later, "Estavayer: 2h50" ... after that, "Estavayer: 2h," and 20 minutes later, "Estavayer: 2h10". The daylight was definitely a factor. Since we had woken late, there wasn't much left by that time. Because of this, we had made up our minds to camp before Estavayer. This -too- was a no-go: By magic, Estavayer-le-lac popped up right in front of us before it's time had come. We had time-traveled according to the previous signs. [Jeremy]


Being in the mountains is really spectacular. [But] If you walk almost 25 miles on asphalt then you feel like you were handicapped, bent and out of shape. I'm always hoping, this will go away once I've put down the backpack. This morning, we went from the lake of Biel to here, the lake of Neuchâtel; a nice area with pretty houses and cars. It's not easy to find a good spot [to pitch a tent] here, especially because it's not allowed to let the dog off the leash or to camp. Slowly, the car drivers, who slow down when they see Quivo, are annoying me; he's become a real tourist attraction and we should charge $10 per photo. We just had couscous with vegetables and sausages. I'm extremely dead and hope to survive the next days. [Florian]

I really hope tomorrow's team spirit will gain altitude as we exit the flat lake-area and veer our minds towards Chamonix. [Jeremy]

Dinner: Couscous with tomatoes, leek, chickpeas, red bell pepper and sausages in a tomato sauce
Monday, September 10 - Day Nine
The issue is at hand! Finally, we spoke openly about the fact that it would be utopic to walk to Monaco in twenty days. We have a new internal goal: Chamonix in the mountains, the winter city near the Matterhorn and Zermatt, where there is the highest mountain in "real" Europe. As soon as we get to Chamonix, we'll take a day off to do some extreme relaxation. From there, we'll plan the rest to come. We also want to use the following days wisely. This morning, we started from the beautiful lake in Estavayer-le-lac towards Romont. After a coffee and lemon-aid, we had a hard time finding the right path. We went through uncountable small villages, where fountains enabled us to fill up our water reserves. It's too bad; we had little use of our Leki sticks since most of the roads were tarred. [Florian]

Today, it became clear to me that we probably won't reach our ultimate goal of Monaco. The distance just seems too far away from here to even grasp. Tomorrow, we won't be in Chamonix. I gather we won't even be there in the next three days but according to plan, we should have to be there tomorrow. Nevertheless, we will make it to Chamonix and set it as our new ultimate goal. For me, the feelings of this are mixed right now so I'm letting the revelation just sit and dwell in my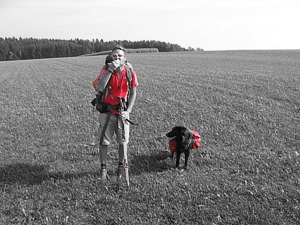 mind until I make further comments. In other words, I don't want to talk about it.

In the beginning, we lost our track twice but found it a little later so that not much time had been wasted. We passed the villages of Nuvilly, Villeneuve, Henniva and Dompierre. Unfortunately, most of the time, we were forced upon blacktop routes, which meant it wasn't possible to use our hiking sticks.

There was a slight issue with food since we had to reach Romont to get any and didn't know a] if Romont had any supermarkets and b] at what time they'd close their doors. So we did our possible to get there before 6 PM. The sun was baking again. The fountains, still numerous, quenched our thirst. On some paths, we passed by meadows, sometimes forests, going up some 2,300 feet, back down and back up a bit. The greatest image lay before us, as we grasped a glimpse of the "real" Alps in the background, which put some fire under my stove.


We arrived in Romont at 5:30 PM, a sigh of relief as we entered a supermarket named "Coop" there. The varieties were grand. The prices were high; as they are in all of Switzerland. We then left Romont and found a snug spot in a field bordering a forest, where a small creek flowed. We washed ourselves over it using the cooking pot and prepared our site for our accommodation. Tomorrow, we'll be descending in a southern direction, getting closer to those peaks we see off in the distance. [Jeremy]

The tour's really a lot more fun with Quivo. He's reliable, listens well and carries his own bag with diligence. Slowly, the marks of the sun can be seen on our skin. By the way, I have more and more blisters and they hurt like hell after 19 miles. Fuck! [Florian]

Dinner: Tortellini (Fungi, Rigatoni) with Späzle, broccoli, orange bell pepper and zucchini in a cream sauce with cheese
Tuesday, September 11 - Day Ten
Today's the day Sean Hayes brings out his awaited new album! I write this down because that's what I thought about today and can't wait to hear it when I get home. Today's also the day we made it to lake Léman [or lake Geneva]. It's the largest lake in Switzerland, the lake on which Geneva is as well as parts of France ... *we just had to turn the lights off because we're a bit paranoid right now, I'll explain later* ... [Jeremy]


Half of the way, the distance, should be over by now. We walked 23 miles today and -so- after ten days have reached 247 miles, half of our total distance. Like I already mentioned, Chamonix has become our new temporary goal since Monaco has slipped off in the unreachable distance. Today, we started shortly behind Romont and went to Oron-la-ville. Today, we had great paths on which we got to try out our Leki sticks. Meanwhile, we discussed the American presidents and the promises they seldom keep. In Oron-la-ville we had a break and shopped at Migros; our dinosaur supermarket. From there on, we began heading south towards Chexbres on the lake of Geneva. We were having lunch on a nice spot of a grassy field when the landowner-lady asked us, what we would think of it if someone were to eat in our garden. Well, not too friendly, the people here. It seems a bit forcibly applied when they say, "bonjour". To first see the evil in people may not always be the right thing. [Florian]

Sadly, they are very much like the Parisians. Instead of relying on the good in people, they directly and instinctively think you mean harm and so, like this woman, instead of offering us something to drink, wished to shoo us off her property, which was hers and hers alone by virtue of God. All I can say to people like that is, "Get real!" [Jeremy]

It started to rain for the first time in ten days and we got our rain gear out but, shortly afterwards, it stopped. We noticed we weren't on the right path.
So, from then on that meant "free styling" to the south with our map and no hiking paths. It wasn't easy but thanks to a natural sense of orientation, it wasn't a problem for someone like me. We went alongside the national road to the lake of Bret, where we had a cookie break. Shortly before, we had been asked if we needed a ride to the lake, which we declined thankfully. From there on, we continued, off the hiking path along the lake. You can tell, there's money in circulation here. [Florian]

The view is -though dusky and raining- spectacular. The lake [Léman] is extremely difficult to size up because the surroundings lend the view a twisted perspective. The mountains in the background, giants over 6,500 feet, dwarf the lake even further. The vineyards go steeply up from the lake to the very top, making it hard to find a space to pitch a tent or even find any flat surface.

Between Chexbres and Vevey, we found a swell spot right above the train tracks including a park bench and a small water fountain. This place was merely a resting halt for the rare but occasional pedestrian, who might have lost his car keys and had been forced to go on by foot. The space isn't very big but it's the only green flat surface available, which hadn't been used to grow grapes on. Because of a nearby road, we're forced to turn our lights on and off in order not to attract attention.


At night, off in the distance, we can make out lights of surrounding cities but strangely enough the lake Léman remains dark. No boats are on it and today, we only saw but one in the water. The winds coming, I gather, from the mountains before us have picked up, making the temperature drop, so that it wasn't as hot as the previous days.

Our tent is set. We cooked, ate and washed ourselves with a 1.5 quart bottle each. I cannot wait for the view tomorrow and the commencement of our final stage towards the French Alps. From here, we can see the opening, where we will exit the lake Léman; it resembles a portal with rising mountains on both sides and a narrow flat clearing in the center. [Jeremy]

Dinner: Rice with green beans, eggplant, carrots and lime in a coconut sauce with sautéed pork
Wednesday, September 12 - Day Eleven
This morning, we were tent-bound. It poured and poured throughout the night and well into the morning. Quivo was getting fed up in his prison of the pre-tent area. The dull life of being confined in a nylon nightmare was starting to kick in. I wondered about those climbers, who end up staying three full days inside their tent [read "Eiger Dreams"]; I had no intention of remaining enclosed all day, so we slowly got ourselves ready from within the tent. Our absolute last action would be to disassemble our home, pack it and leave. Luckily, the rain died down a bit around 11:30 AM, allowing us enough freedom to disembark and be underway once again.

We passed Vevey and continued along the shoreline. The lady at the tourist information center told us that tomorrow, the weather would gradually get better and the day after, it would be sunny. There were very few beaches along the way and the lake was uneasy because of the bad weather. Still, we obtained an even better view of the mountainous region on the other side of lake Léman as houses, peeks and the coast became clearer. [Jeremy]

Few were the ships on the lake of Geneva. There was a strong wind but we didn't freeze. That was important. We went along the coastline walkway, going by countless luxurious manors, while the cars driving by did their usual. [Florian]


In Montreux, we halted and ate at a shopping mall. We resembled two homeless guys, pushing our shopping cart full of plastic bags and backpacks. At least, this was the impression I was receiving from the judgmental looks the folk were giving us; homeless people with Gore-Tex jackets, Leki hiking sticks and a dog wearing a $150 backpack.

We continued along the sidewalks through Villneuve, where we left the lake Léman behind us to enter the passageway we had seen two days before. The rain had finally ceased so we could lose rain jackets and backpack-hoods but shortly behind Noville, it kicked back in. [Jeremy]


It was insane; the view, walking in the direction of the mountains and knowing that maybe, in a few days, we would be walking through snow. It started to rain again as we walked along the canal and the sky didn't seem to want to give in. I then thought, with this kind of rain, we could try staying at a farm. We asked in Chessel and were given a garage, in which we could make ourselves at home, and then ultimately, we were brought to a communal house with toilets ...
pure luxury like in a hotel; we were very warm after having slept ten days outdoors. We just had delicious sauerkraut and mashed potatoes. The wash is done and tomorrow, we can continue dry and healthy. [Florian]

The place had everything; running water, even hot water, toilets and electricity. Though, seeing the wild-growing facial hair and weathered face in the bathroom mirror wasn't the most beautiful thing you've ever seen, the home was like a dream come true.

Even Quivo is enjoying his new environment and is profoundly asleep on the clean floor, dreaming. The town folk were really hospitable to us, which proves my point once again: The people who live in small villages are open and friendly, while those who live in cities ... well, generally suck. Sorry to say this but it's a theory that has more than often been confirmed on our tours. Tomorrow, we'll head towards Champéry, the last stage in Switzerland, and, as Christian [the guy who offered us the house] informed us, the rain will have died down by then. [Jeremy]

Dinner: Mashed potatoes with sauerkraut, zucchini, carrots, sausages and cheese
Thursday, September 13 - Day Twelve
This morning, we departed Chessel after having swept the communal home because Quivo was in great need of being brushed. Maybe this doesn't matter in nature but black hair on light-colored floor requires a bit of cleaning. After we got going, we headed in the direction of those snowcapped mountains. [Florian]


Our first stop was Aigle, getting there by following the Rhône river [not to be confused with the "real" Rhône river in France]. Once in Aigle, we halted for my favorite thing, coffee, and made a short pit stop at the tourist information center and inquired which route was best-suited to get to Monthey on foot. She informed us that there actually weren't any real pedestrian paths because, "We are two different cities," she explained ... huh?! So with a bit of her help, we forged our own path and marched on to Collombey. A huge shopping center complex greeted us there. As usual, these centers are absolutely non-pedestrian since everybody drives to and back with their cars. We shopped at Aldi and asked the cashier and customers if there were any grocery stores in Champéry, where we'd have to stock up on three days' worth of food. They said there was a minimart there but weren't sure about a gas station. Just like poker, as Florian stated, we would bargain all in on the upcoming cards.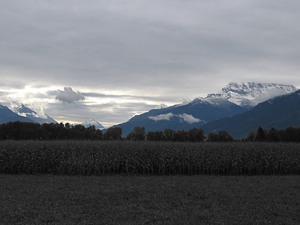 We had lunch in Monthey and darted up some 1,300 feet to Val d'Iliez, where a brand new luxury spa was under construction, and such nice constructions here; no cement block buildings with ugly facades but wooden structures mixed with stone and big windows ... very promising, nice and expensive. [Jeremy]

We then headed towards Champéry, a larger village up at 3,490 feet, 2,000 feet more than Monthey. We went through forest paths and up steep passages.

A huge mountain river shot out down the valley; astonishing and at the same time frightening to know how high and unpredictable the mountains are. As we came into Champéry, shortly after 6 PM, we bought a few small items and searched for a place to sleep. There was enough water about but a place to camp was not easy to find. So, we decided on a cow pasture, directly in front of a sewage plant. Ok, it's true, there are nicer places to camp but it was alright. The flow of the "La Viezer" river was very audible. We washed our clothes and ourselves in the ice-cold water. It was unbelievably cold. On the way back to the tent, we steamed until we got completely dressed again. [Florian]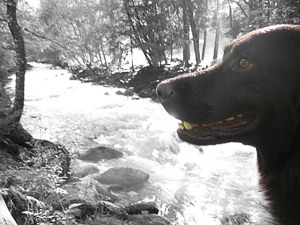 We started to layer our clothes to keep warm and going barefoot, as we had done before, was no longer possible. I cooked as fast as I could, placing my toes close to the flames of the cooker. [Jeremy]

Jeremy's flashlight just fell in the cooking pot, I'd like to mention here. It's really cold out there. I'm happy to have such a good sleeping bag. [Florian]

We brushed our teeth and immediately went inside, settled in -Quivo in front- and closed the tent. We will see how cold it gets during the night and if it gets too chilly we will let Quivo inside the tent. [Jeremy]


Tomorrow, we'll start the foot march early. There's plenty that has to be done. We have to fill up on gas, ask about the weather and perhaps even see about maps to Chamonix at the tourist information center. Then, we'll have to buy provisions for three days and hope that it'll be enough to reach Chamonix; while we'll be scrambling up 6,600 feet. I'm a bit excited already and hope we'll find the way in the Alps. Now, I'm just happy about nighttime and sleep, good night. [Florian]

Dinner: Sauerkraut with mashed potatoes, sausages, zucchini, brocolli and cheese [yes, again but it's one of our favorite meals AND I had bought too much mash potatoes and sauerkraut the day before]
Friday, September 14 - Day Thirteen
We awoke in a cold and damp atmosphere. We put our shoes on even before exiting our nylon mansion and prepared breakfast. It hadn't rained but everything was soaked caused by mountain dew. Even the outside of the tent looked as though it had showered all through the night. Luckily, the sky was
cloudless and as soon as the sun stroke the earth, we no longer had to worry about getting cold so we wandered high-spiritedly into Champéry. [Jeremy]

We got an early start, closely in front of Champéry. We had to fill the gas cooker. After we had a drink at a café and gave up our last francs for three days of isolation, off we were already. We had exactly enough money. It was the first morning, I had woken earlier and been out before Jeremy. We went from Champéry at 3,500 feet to the Cou pass at 6,300 feet. Crazy; all the mountains around us, covered in snow. There was even a bit of snow about and I could touch it.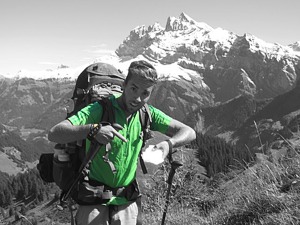 It's a funny feeling to be wearing a shirt and shorts when suddenly there's snow lying around you. We had lunch on the pass; with nut bread and mountain cheese. Then, after putting on the fleece and taking a Switzerland/France border photo, we headed on to Col de la Golèse [Golèse pass]. [Florian]

From there, we descended a bit to go up again and gain some 1,000 feet to the Golèse pass, where we had a cookie and dog-treat break.

The day went by extremely well: The changing surroundings, the trees, the view of snow-topped mountains, the fields, the torrents, the climbs, the descents. All these distractions made the hike worthwhile and not boring; I wouldn't say exciting but time went by fairly fast and that's the universal measuring stick for knowing whether one's having a good time or not. We descended down to Samoëns and chose a spot near a torrent. I went out on the town to fetch some sugar, which an old lady gladly offered me while her husband told me of how he had gone up the Mont Blanc twenty times but had only made it once to the very top. There again,
it was tough at night to wash ourselves because the temperatures dropped pretty fast as soon as the sun disappeared but the feeling of cleanliness is worth sacrificing comfort. [Jeremy]

Despite the 23 walked miles, the feet did not hurt. Tomorrow, we're headed for Chamonix. I hope we won't get lost and we'll reach in one day and a half our anticipated Chamonix. We just had pasta with green beans in a brown-mushroom-soup flavoring. We thought we'd wash ourselves after dinner today but I'm not sure it was the best of ideas. I froze like hell but at least we're clean and soon we'll be warm. [Florian]

Dinner: Pasta with green beans and sausages in an instant cream-mushroom sauce [unfortunately somewhat meager because we need to stretch our supplies for three days]
Saturday, September 15 - Day Fourteen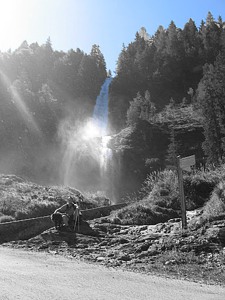 Today wasn't such a great day for me ... still, amazing we got 21 miles out of it. I woke with a sore throat and an oozy sick feeling. My legs weighed heavily on the path. Maybe yesterday's bath had been a tad too cold, who knows. Otherwise -walking-wise- the day had been fantastic. Unfortunately, I couldn't enjoy it as much as I might have wanted to. As I write, we are in the tent and it's not even dark out but I'm wasted. [Jeremy]

This morning, we went off from Samoëns. Jeremy wanted a coffee but I was more for hiking further since we had a tight schedule in front of us. We went along a river with many stones for a while until we turned onto a trail called GR5. The signs were white and red. We walked to the "Cascade du Rouget", a great impressive waterfall. There, a group of old-timers were having a break, some champagne and snacks. We drank a coffee and lemon-aid for €4.40 [$6] ... woohoo, the Euro is back. Then, we continued upwards to 5,900 feet, where there was a refuge house on a small high plateau. I have to say I've never seen such nature!


It was a tough ascent, also because Jeremy had problems with Nicotine withdrawal and often needed a break [clarification: Yes, I was having Nicotine withdrawal but that isn't why I needed the breaks. I was sick, that's why. - Jeremy]. Especially funny, was the "dogs prohibited" sign, which meant you were not allowed to make use of your dog on those paths. Quivo's been on the tour for 13 days and now we have to leave him behind? No way ... so, we went further in direction of the lake d'Anterne; a mountain lake, situated at 6,600 feet. What a wonderful view. Here, you could really make a fantastic Adidas outdoors campaign movie. We got here very early, washed some stuff and ourselves in 48°F-cold water. [Florian]


Right now we're situated between peaks with a great stonewall, elevating straight up, to the right of us at lake Anterne. The surroundings are spectacular, as if somebody had painted the portrait of what picturesque paradise should look like. The water was extremely cold and along the way, a girl had told me that, the night before, the temperature had dropped to 28°F. [Jeremy]




I thought; great, exactly the right thing for my sleeping bag. We had already taken a photograph of the first Chamonix sign. I hope we'll get there tomorrow; I'm very enthusiastic. Now, everything is prepared for the coldest tour night we will have had in our history of tours. Let's go ... [Florian]


This is why, we were extremely careful to get everything done before dusk; the washing, the cooking, the cleaning of clothes, pitching the tent, feeding Quivo, tidying up, brushing our teeth and getting ready for bed. The sun had vanished behind the immense stone wall and as soon as this had happened, you could see moist clouds slowly making their way down towards us. We knew, as soon as they would hit, everything would get soaked and as soon as night would fall, any humidity inside the tent would evaporate and create a cold, damp atmosphere, which would get us sick. So, we made sure that nothing wet -such as washed clothes- was inside the tent or even in Quivo's pre-tent compartment. Now, in our sleeping bags, we are ready to face the cold and are good-humored to know, Chamonix is not far away. [Jeremy]

Dinner: Polenta with eggplant, corn and sausages in an instant cream sauce
Sunday, September 16 - Day Fifteen


This morning, we headed out from the breathtaking lake. About three other tents were up around the lake. Luckily, we hadn't frozen. This morning, we only had one objective; Chamonix. After having spent the night at 6,600 feet, we descended through the next pass at 5,900 feet. There, we got a fine for $92 because of Quivo. It was, once more, a nonsense fine for violation but what can you do? Of course, Jeremy was agitated over it and answered the policeman indifferently. [Florian]

I wasn't feeling my best and was out of shape to argue and, honestly, what good would it have done? If someone posts a rule, regulation or law, no matter how dumb the idea is, they can still always say, "It's the law," and get away with that argument as if they had given you some kind of logical explanation. Rules must be obeyed and followed at all times, who cares what they're good for, they're there probably only to be there, which gives a rule purpose in itself. The police officer

WTF! Let me explain: So dogs are prohibited because the national park wishes to conserve its original environment and sheep and cows are somehow part of the reserves wild beasts, creatures that roamed the earth before man and therefore must be protected? Whatever. Cows and sheep are livestock, domesticated animals, crossbreeds made by humans and so are dogs [except for the livestock part]. Again ... Get Real! [Jeremy]

We then had coffee and lemon-aid, before starting off towards the "La Diosaz" torrent. We went all the way back up again to 7,769 feet on the elevated Col du Brévent [Brévent pass]. There, we met a couple, who had done a tour of the Mont Blanc including summit in twelve days. We had lunch while enjoying a nice view of Chamonix. Our path went two hours down the mountain, where we could watch para-gliders jumping off. [Florian]

We zigzagged downwards about 3,300 feet through forests and stony trails to our final destination, Chamonix. Once there, I felt and knew this was it. I don't know if I can say, I'm overwhelmed with the outcome of this tour. I'm left to ponder if our 350 miles on foot was enough. What about Monaco and 500 miles? The thoughts of not having done enough led us to a discussion on climbing the Mont Blanc. This idea had been in my head for the past two or three days but

I was good for the go; still a tad sick but motivated at the mere mention. Florian was my opposing pole: He argued that our gear wasn't right for the climb. I thought, sure, our stuff isn't first class mountaineer equipment but you don't need to go ballistic if you're going to climb the easiest trail on the Mont Blanc. Florian backed out and simply said, he didn't want to do it and suggested we could come back another time, if I was willing, to climb it. I really doubt that Florian will pop up one day and ask me if I wish to go back to Chamonix with him to ascent the Mont Blanc but I folded. Anyways, I wasn't completely healthy and maybe my idea was more a spontaneous revenge against Monaco than a thought-through scheme. [Jeremy]



But let's look at it from the good side; we walked entirely from Freiburg to Chamonix, only by foot on about 90% trail, camping outdoors, preparing our own food and -this- with a dog. Though I feel like we're

In Chamonix, we found ourselves a nice 3-star camping for $24.50 a night, washed all of our clothes in a contraption called "a washing machine" and took a tour around the busy touristic streets of downtown Chamonix. Almost every important outdoor company can be found here and as Jon Krakauer indicated, and I can only confirm, Chamonix is the capital city of mountaineer fashion. To celebrate our half victory, we had dinner out on the town, raclette Savoyard, just the thing one needs in the "real" Alps. [Jeremy]


Dinner: Restaurant; salad niçiose, raclette Savoyard and upside-down apple tart with wine
After having been back home for a short while now, there still lingers an uncertain feeling of not having done what I thought I was supposed to have done. The big question is, "What exactly went wrong?" Well, a few things were off course on this tour. Don't get me wrong, it wasn't a complete disaster or anything, just not extremely satisfying.

When I look back and after having read, compiled and edited all GPS data as well as Florian's and my daybook logs, a few things surprised me a bit. First off the bat, I think the contrast between Florian's log entries and mine go greatly together. Not because they're exact replicas of each other but more because, at times, they are opposite of or complementary to one another.

I was amazed at how quickly Florian lost motivation on this tour and this became very clear to me after having read his entries. Hiking was not his favorite thing and having discussed the tour with him afterwards, he said that the walking business had been hard on him and the rants were spur of the moment but he was still glad to have done the tour.

Next question: Would we have made it to Monaco on a bike? Yes, I think so. Our routes would have been close to what I had calculated and even if 60 miles or so were missing towards the end, it would have only meant one more day of biking for us.

This brings us to the next question; why didn't Monaco work? Well, for one, it was my fault assuming that my calculated course would approximately represent the true course we took. If we had wanted the calculated distance to match, we would have had to walk along roads and routes, which we didn't for most of the time. This was the number one factor, why Monaco didn't work. In fact, had we continued, we would have needed about 15.3 more days, making a grand total of 30.3 days for the entire tour. These numbers are according to new calculations, which take into account the usage of trails instead, not roads. Of course though, this correction was only possible after the tour since I used our [or rather my] errors to calculate the difference.

In the very beginning, we also lost 1.5 - 2 days. If you look on the very first map, you'll notice that we start from Freiburg and go up to the north, to then come back down towards south. This mistake was made because of my stupidity to have thought it easy to start off in Freiburg without an appropriate map. Hence, had we had a map, we would have been in Chamonix on the evening of September the 14th, instead of the afternoon of the 16th. Would this have changed something? Yes, I think. I think we may have continued on. It would have probably dawned on us, then and there, in Chamonix that we wouldn't reach Monaco in due time. Maybe Florian would have doubted it beforehand, after having left the Swiss border, but it would have been official for both in Chamonix. We would have rested a day and then continued on our 15th tour day for 4-5 more days.

If you take away the days we lost, as described above, you reach a grand total of 28.8 or, let's say, 29 days to go from Freiburg to Monaco. That's nine days more than I had calculated so definitely off-limits for us.

Of course, this is all speculation. I'm glad to have done the tour, just sorry the outcome wasn't at all what I had hoped for and that the feedback from my partner was rather negative. You know, you put a lot on the line for these tours and work a lot towards them. That's probably why Florian read in my reactions that I didn't want to talk about Monaco not being do-able; because I was not ready to give in so early. Deep inside, I knew his logic was correct but I felt I had to motivate the party onwards and that is sometimes a tough job.

I'm very impressed with Quivo. I'm also very impressed with and proud of Flo, especially after having read his entries. He continued on, though, he himself wanted to stop and it's true that this robs you a lot of energy. You have to put so much physical energy into a tour that any mental strain just punches you when you're already beat. Back to Quivo: He was simply amazing! I think we often said good things about him and to be honest; there are only good things that can be said. I think Quivo was really pleased and believe he would have continued on the road for the rest of his life.

So in many ways, the tour was not exactly what I had expected but I'll never forget it and now, I wouldn't want to have done it any other way. I'm throwing away all my assumptions and starting from scratch because I have to be somewhere in 2013 but I've got to get there first ... and that's the most sense I know how to make.